The Photo Album now has pictures!
By Winkler Ranch | October 14, 2011 at 06:21 PM EDT |
No Comments
Instead of trying to add pictures to the blog, I have added pictures to the photo album on the main site. Go check them out! Most all of them are takenn by my daughter, Cherokee. She got a nice camera for her birthday this summer and she is learning how to take some nice shots! She has an eye for what looks good!
Have a great weekend!
Cheyenne
Fall has arrived at the Winkler Ranch
By Winkler Ranch | October 13, 2011 at 03:29 PM EDT |
No Comments
The chilly mornings and warm days around here have marked the arrival of fall. We have been very thankful for the little showers we have received lately, but it would be very nice to have a good soaker one of these days.

The winter wheat is up and looking good and the grass-fattened steers are just that...getting fat! They look good! The calves are getting bigger and in about a month, they will be weaned from their mommas. We will be preg checking the replacement heifers and cows soon with our "new" ultrasound machine. Paul will be using the ultrasound machine mainly for checking carcass quality on our market animals, but we will also take advantage of the machine for preg checking.

Our kids are back "in school." For our family, that means back to the kitchen table. We began our homeschool journey seven years ago and have not regretted that choice once...well, there have been days. :-) No, not really! I love having the kids be part of the family's operation here and they are learning both "books" and "ranching" while they are growing up. They get to be involved with their Dad and their Grandpa's day and are actually very good helpers!

The kids have been busy gathering their toys that have been spread out so they don't get buried when the snow starts a flyin'. Just this morning, I had to unhook and drain my chicken water hose. I will now have to haul water to the chickens, but they also come over and drink from the cat water by the house.

Paul and Dave have been moving the haystacks getting them in position for feeding the herds during the snowy months when their winter grazing is covered. With the wet spring we had, the hay crop was wonderful!

My chickens still haven't started laying any eggs, but they should start soon. Last weekend Paul helped me get some chicken laying boxes put up in their home. Now, I just have to be patient and wait for them.

Today we need to go look through the cows and replacement heifers for some missing neighbor's cattle. At the same time, we want to get some pictures of the cattle. I hope to get some new pictures loaded later...

Until next time!
Cheyenne
Recent events..
By Winkler Ranch | July 23, 2011 at 10:42 PM EDT |
No Comments
It's been too long, but here I am again. Yesterday we completed our chicken experiment. Earlier this spring, I ordered 25 meat birds and about 30 layers and roosters. The kids and I have enjoyed watching them grow from tiny chicks to fat meat birds! Our layers are pretty and won't be laying eggs until later this fall, but our meat birds reached maturity this past week. Unfortunately, the total number of meat birds that were still alive had dropped dramatically thanks to the cats who figured out how to get in their enclosure and most recently the over 100 temps we had last week. We only had 8 left to butcher. So, Paul and I processed those eight chickens and we have already enjoyed one of them. He was tasty! I don't know if I want to do that again, but we'll see. It was a great learning experience for our kids to see where chicken meat comes from.

I have had the pleasure of getting some riding in lately. It seems to be working out well for me to take one of the mares and leave her baby with the other mare and baby in the yard. He is never alone and doesn't even hardly miss his momma until she comes back and starts calling for him. We've had a neighbor's yearling heifers get in with our cows so had to do some sorting. Garrett is learning how to be a great helper and loves to ride Sam. Sam is a great teacher for him, too! The other day, Garrett and I sorted 15 head of heifers out of the cows all by ourselves without any problems.

Clint's birthday is next weekend. We are talking about doing an overnight camping trip to the Sand Creek camping area just south of Beulah, WY with the Keffeler's. He is excited about sleeping in a tent! We haven't gone camping at all but it has been on our list of things to do for a very long time! I found a tent that Paul and I had when we first got married and thankfully, it looked good as new when I opened it and checked it out the other day. It is only big enough for a few kids so we need to find another tent. Or, maybe I should just pull my horse trailer along and sleep up in the goose rather than getting a new tent...probably won't, but it was an idea!

Looking forward to spending tomorrow with our family from the Northern Hills church! Have a great one!

Cheyenne
Happy Birthday, Cherokee!!
By Winkler Ranch | July 08, 2011 at 11:36 PM EDT |
No Comments
Twelve years ago, I was blessed with giving birth to my firstborn! God blessed me by choosing me as her mommy. We had a fun day we've had! It was a sunny, hot one but we enjoyed it by working in the garden and in the flower bed around the house. For lunch, we took mini-pizzas out to the field to feed Paul and then mid-afternoon we went back out with a snack for him and had Cherokee open her gifts then. The boys gave her a Lego board game, Creationary, and she got a nice camera from us. This evening after supper, we loaded up in the Suburban and headed over to Newell Lake which is about 12 miles away by road. If we had a good trail straight across, we would only have to drive about 4 miles. The kids got to "swim" and dip their toes in the lake for awhile. What a great way to cool off! Paul and Cherokee experimented with her camera and I'll have to get some of their pictures loaded soon.

Tomorrow we are having a little party for Cherokee. She is asking for an ice cream cake like Tina Weber made for Eli last year. Yummy! I will get that done in the morning. I'm too tired to stay up late tonight!

The haying is coming right along. Paul just keeps cutting and his Dad keeps making stacks. This afternoon, his Dad broke down so Paul helped him do the repair so it came to a standstill, but they'll be back at it tomorrow.

Last night, when I went to pick up Cherokee from my parent's place, I came home with two mares and two babies. I was asking to borrow a couple horses so I could rotate and give them more rest in between rides. I have some riding to do next week so we'll see how they do without their babies for a little while. I plan on taking one mare at a time so both babies can stay with one momma. Both are pretty cute, so I'll have to get Cherokee to take some pictures of them.

Until next time...
Cheyenne
More rain...
By Winkler Ranch | July 02, 2011 at 11:08 PM EDT |
No Comments
I don't think anyone would ever complain about getting too much rain around here, but all this moisture has been making it difficult to put up some hay lately. I love not having to water my garden, too! Things are growing good so far and most of my tomato plants and hot pepper plants have come back after a little hail storm we got last month. I knew things would not grow as well in this dirt as they did in Iowa, but we did mix in some old manure and I guess the good thing is that the weeds aren't as agressive...yet!

This spring we decided to purchase some chicks, both layers and meat birds. They arrived about a month ago and the kids and I have really enjoyed watching them grow and change. Unfortunately, the cats around here also enjoyed watching them and more than once got ahold of some. We don't have that many to butcher anymore. Ugh! I am excited for the day when I will start getting eggs, though, since we go through so many eggs! Most days I go through at least a dozen.

We had a nice visit today with old friends while we remembered a beautiful, wonderful lady who lost her battle with cancer 6 months ago. Christy Weber and her husband, Bob, took all of us from Tech that made our way out to Fort Wayne, IN feel at home. They opened their home to us and treated us like family since ours were so far away!

After we got home this afternoon, Paul's Dad informed us that we had five bulls missing from the cow bunch. So, we loaded up horses and a 4-wheeler in the trailer and Paul drove the pickup with all the fencing supplies in it out to the north pasture with me following with the trailer. Garrett went with me and we started out by looking at one neighbor's bunch while Paul went through our bunch one more time to take another look. By the time Garrett and I got done with the neighbor's to the west, Paul had found the bulls. They hadn't been gone, they had just been hiding somewhere. So, the lost was found. I wish all days would be that easy! :-) But, we had fence to fix so jumped in the fencing rig and went to fix some broken top wire and holes we had seen. The clouds had been building so we knew something was coming. We just got back to the horses and trailer when we started getting big drops of rain. It was a nice little shower and enough to keep Paul out of the hayfield a little longer.

I had wanted to get back to Belle Fourche for the first performance of the rodeo at the Black Hills Roundup, but we got back from up north too late to make it. The coronation for the new Jr. Miss Rodeo South Dakota and the 2012 Miss Rodeo South Dakota took place right before the rodeo and I have just recently learned that Courtney Peterson from Sisseton is the new MRSD lady-in-waiting and Kay Marrs from the Whitewood area is the new Jr. MRSD! Congratulations ladies!

Until next time!
Cheyenne
Some Pictures Cherokee has taken...
By Winkler Ranch | June 30, 2011 at 07:17 PM EDT |
No Comments
Growing up, we called this sky blue pink. We are blessed with beautiful sunsets here!
I love this sky! Big, white puffy clouds with vivid blue sky!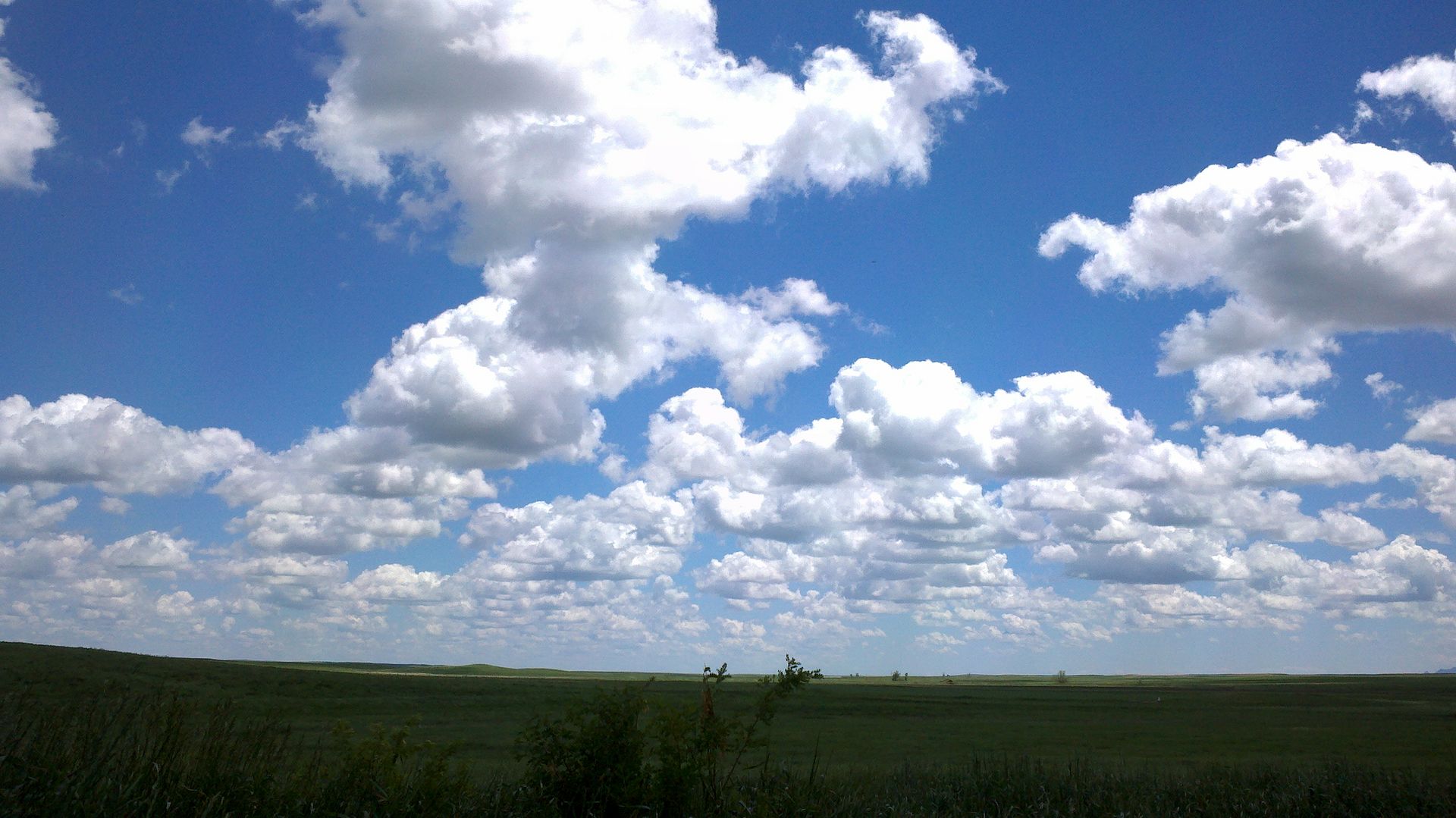 Garrett loves to ride! Here he is riding Sam, the great kid horse. He is still a great cow horse, too, and I like to ride him even if he is a bit rough.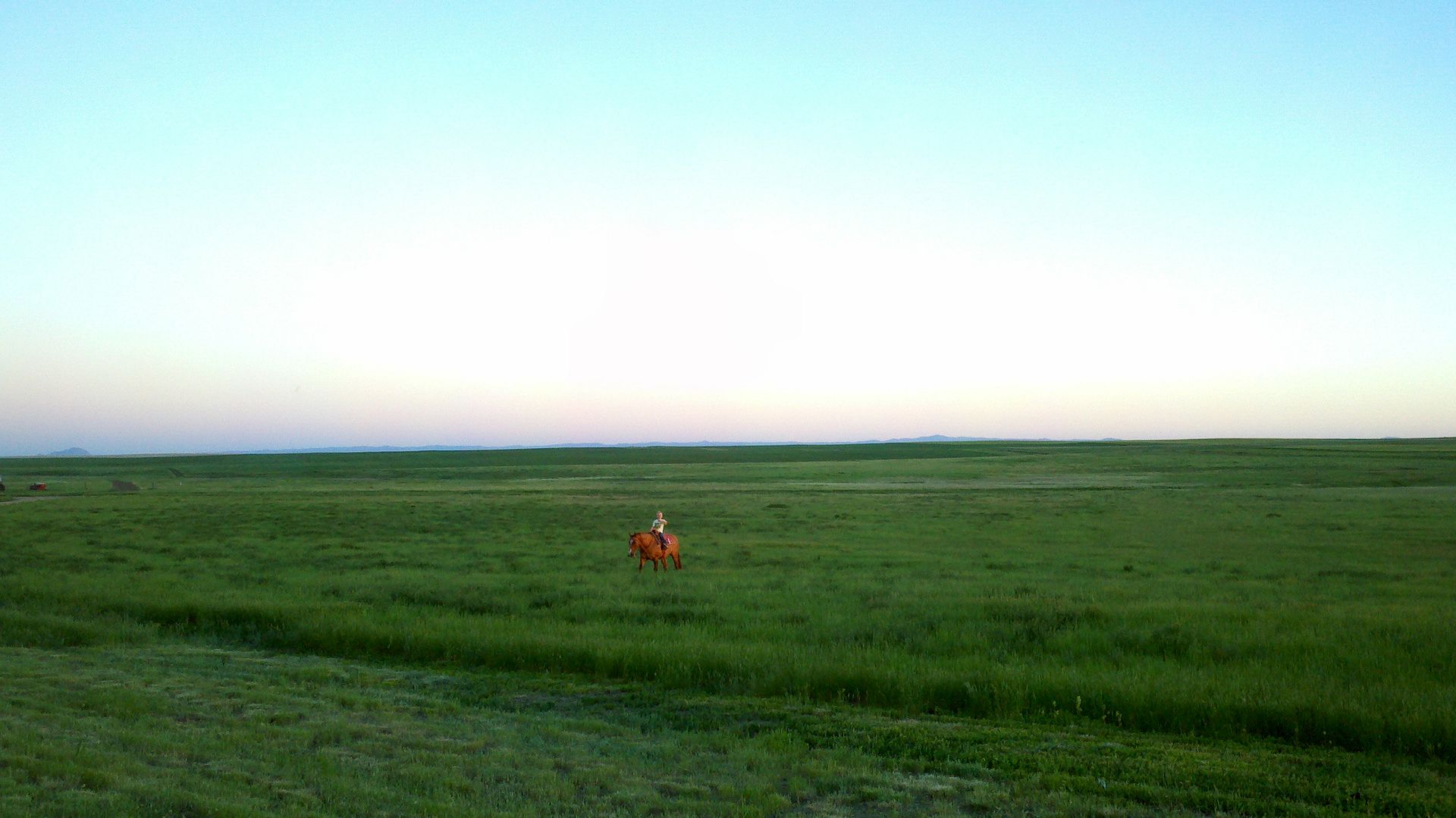 After moving some steers back out to pasture, I took a short cut home against Garrett's recommendation. He was right...it was REALLY muddy, boggy down there. Poor Sonny! He was in mud up to his hocks.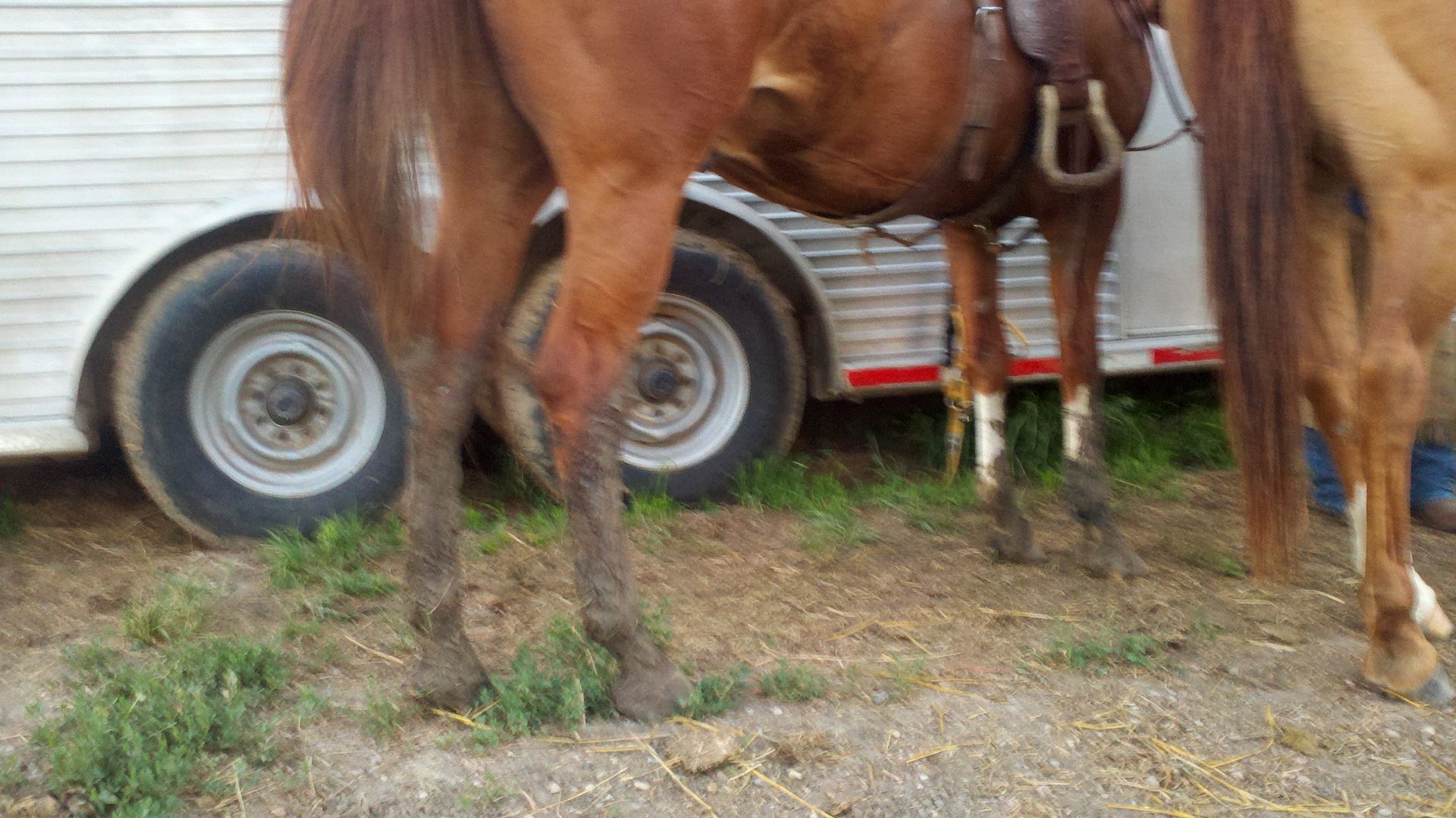 We have an old rose bush in front of the house and recently is has been covered in beautiful yellow roses. Lovely and very fragrant!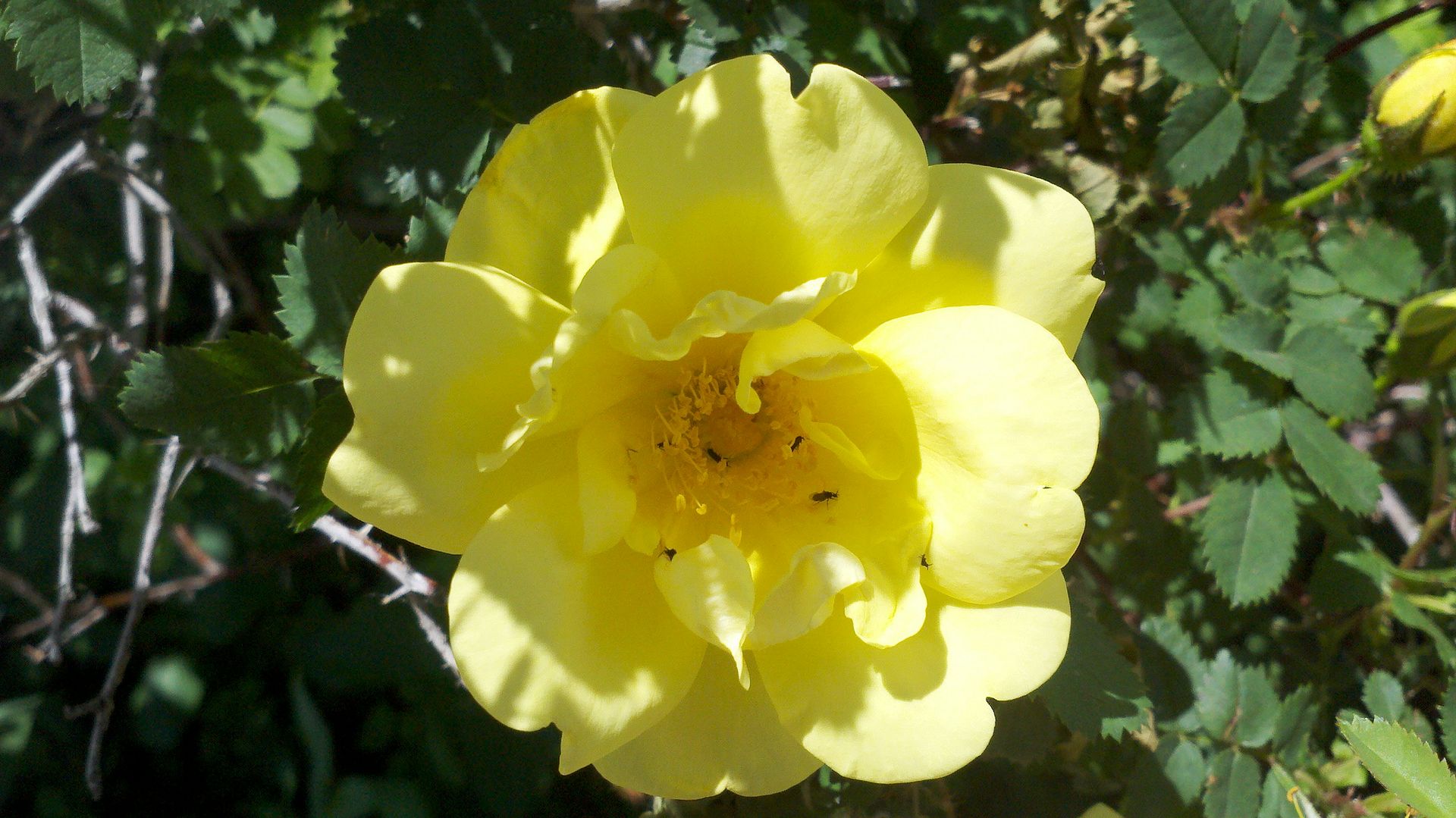 Garrett is here having fun with Sam. He hung his camo hat on Sam's ear. Good 'ole Sam puts up with so much!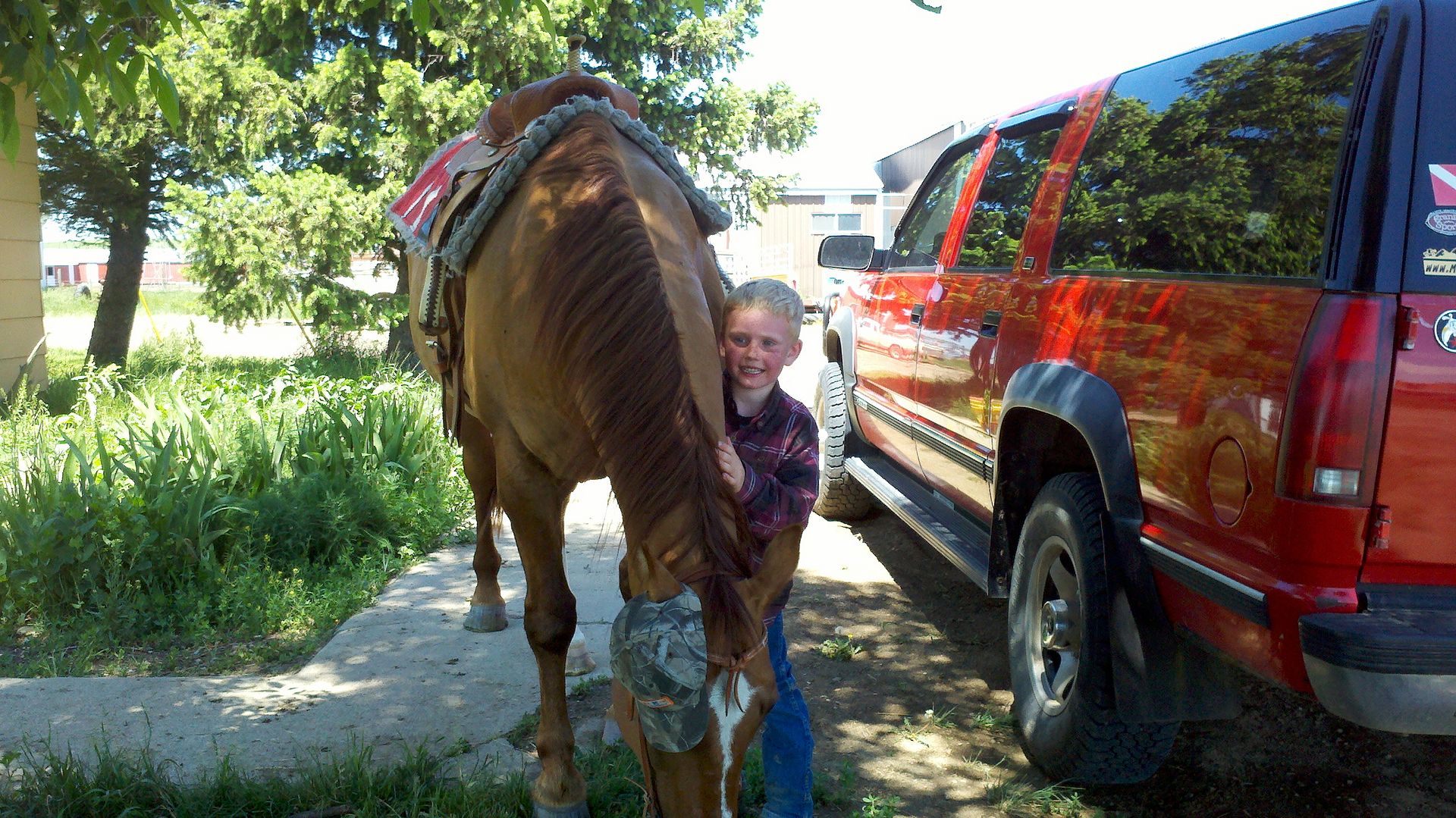 I've entered the world of blogging...
By Winkler Ranch | June 30, 2011 at 06:33 PM EDT |
1 comment
I am not much of a writer, but this is mainly for my friends back in Iowa who I miss dearly! Paul really should be the one on here so I will try and have him add some additional insight on our new life as ranchers in western South Dakota where I can count the number of trees I see from my kitchen table on one hand and I can see many miles! :-)

Today it is much cooler (only in the 80s) than it was yesterday! Yesterday we hit 100 and it was hot. Paul was cutting in one of the alfalfa fields and the swather was overheating so he could not run the AC. He was in the "sauna" while cutting all day! Yuck! Thankfully, I was either horseback or running back and forth from the field so it was bearable for me. We have been taking lunch and supper to him in the field so he can stay at it. The kids and I are enjoying the daily picnics on the tailgate of the pickup. I could use some ideas for quick and easy lunches to haul to the field, though! I'm running out of ideas.

We branded the final 7 calves today. Paul and I held them while Dave did the branding and vaccinating. It went smooth, but I am glad to be done with that phase of the year! All the cow/calf pairs are out to summer pasture and with the bulls. Now, I will just try and get through them on a regular basis to check for anything sick, hurt or missing.

Tomorrow is the Style Show for the Jr. and Miss Rodeo South Dakota pageant in Belle Fourche. I hope to take Cherokee and Cody Rose with me to watch. Next year, it will have been 20 years since I was up on that stage competing. Wow! Time sure has flown!!

Happy Independence Day!!
Cheyenne